3C45
Diaphyseal deformity in a short tibia.
(a) 53000 fixator in place with Micrometric Swivelling Clamp distally; osteotomies: proximal for lengthening, distal for correction.
(b) Distal: initial lengthening to stretch soft tissues slowly. Acute shortening and angular correction by callus manipulation. Proximal: lengthening by callotasis after normal waiting period.
Caution: Resect at least 1 cm of fibula; distal syndesmosis screw.
Peroneal nerve: no acute correction of valgus deformity.
FROM THE BLOG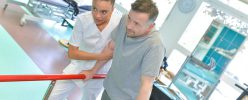 Weight bearing and dynamization
2021-11-17
Weigh bearing is considered a significant clinical issue particularly when an external fixator has been applied to a lower limb. If mechanical stability is in fact a mandatory condition for promoting fracture healing, other key components for a full recovery of the bone are early weight bearing and dynamization.
Read More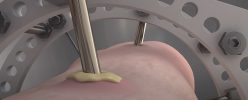 Dealing with pin site problems
2021-10-17
To prevent and manage pin site problems, the patient should be clearly informed of the protocol he/she needs to follow for pin site care in the post-operative phase. And not only the patient, but all people involved in the healing process outside the hospital should know the protocol.
Read More