3C43
Antecurvatum and rotational diaphyseal deformity in a short tibia; LRS ADVanced with Acute Correction Templates.
(a) 53000 series fixator being applied. Note offset position of Rotational Correction Template relative to Angular Correction Template at end of rail.
(b) Osteotomy and correction of deformity; definitive fixator in place.
(c) Lengthening to restore original bone length.
Caution: Resect at least 1 cm of fibula.
Peroneal nerve: no acute correction which might stretch nerve.
FROM THE BLOG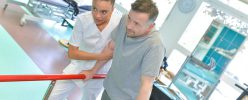 Weight bearing and dynamization
2021-11-17
Weigh bearing is considered a significant clinical issue particularly when an external fixator has been applied to a lower limb. If mechanical stability is in fact a mandatory condition for promoting fracture healing, other key components for a full recovery of the bone are early weight bearing and dynamization.
Read More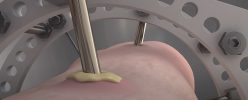 Dealing with pin site problems
2021-10-17
To prevent and manage pin site problems, the patient should be clearly informed of the protocol he/she needs to follow for pin site care in the post-operative phase. And not only the patient, but all people involved in the healing process outside the hospital should know the protocol.
Read More