FROM THE BLOG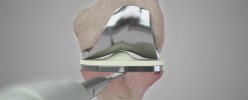 Ultrasound and Cementless Prosthesis Revision
2023-09-15
Total joint replacement surgeries are one of the most common procedures practiced in orthopedics with hip and knee replacements being the most common procedures performed, followed by shoulder and elbow replacements. Over time, a total joint replacement begins to wear and tear, and a revision procedure may be necessary to replace worn-out joint components with a new or improved prosthesis.
Read More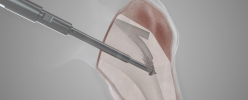 Ultrasound and the Removal of Bone Cement in Revision Arthroplasty Surgery
2023-09-12
Revision arthroplasty is a procedure performed when a worn-out hip, knee, shoulder, or elbow joint replacement component requires replacement with a new prosthesis. Hip and knee arthroplasties are some of the most common procedures undertaken today. It is estimated that in 10 years, the number of primary total hip arthroplasty interventions will grow by 71% to 635,000 procedures, and primary total knee arthroplasties will undergo an 85% increase, totaling 1.26 million procedures in the United States. Consequently, total hip and total knee revisions are projected to grow by 137% and 601%, respectively, between 2005 and 2030.[1] Shoulder arthroplasty is also a prevalent joint replacement surgery, being the third most common after hip and knee replacement. In terms of complications, total elbow arthroplasty has complication rates higher than that of total joint arthroplasty of all other joints.
Read More